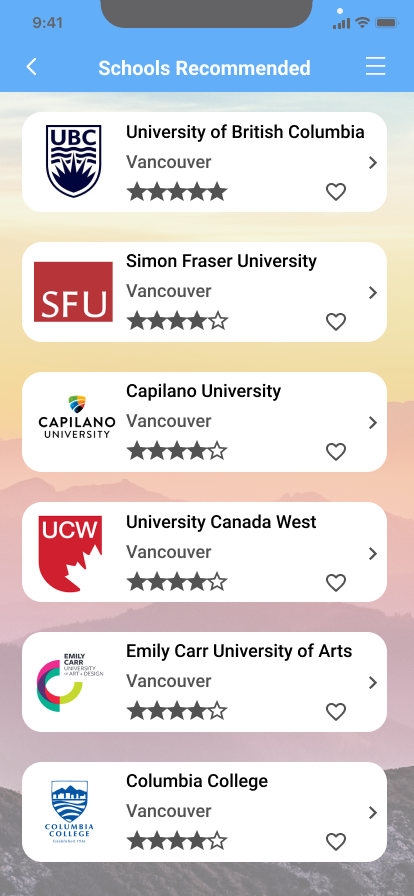 A native IOS app that connects international students to Canadian schools in a simple way
Role: UX Researcher, Design Strategist & UX/UI Designer
Team: Solo
Timeline: 10 Weeks
Deliverables: Minimum viable product for a native app
Tools: Marvel, Figma, Invision, Notion, Otter
Problem Space
The International Education is a 20 billion dollars industry that depends on third parties also known as agents. International students who wish to apply directly to schools, without hiring an agent, face a major challenge when browsing universities websites to find specific information.
Time
A 10-week timeline though a bootcamp with many other events (projects, lectures and assignments) happening in parallel.
No budget
Some of the tasks could be done by a hired third part, but I decided to be involved in every aspect of the project.
Human-centered solution
I committed to design a solution that is desired by my user target as well as can be technologically delivered and profitable as a business.
Process
I had to learn the process and iterate based on the feedback from users, professors and fellow designers. The process never ends... Iterate, iterate, iterate.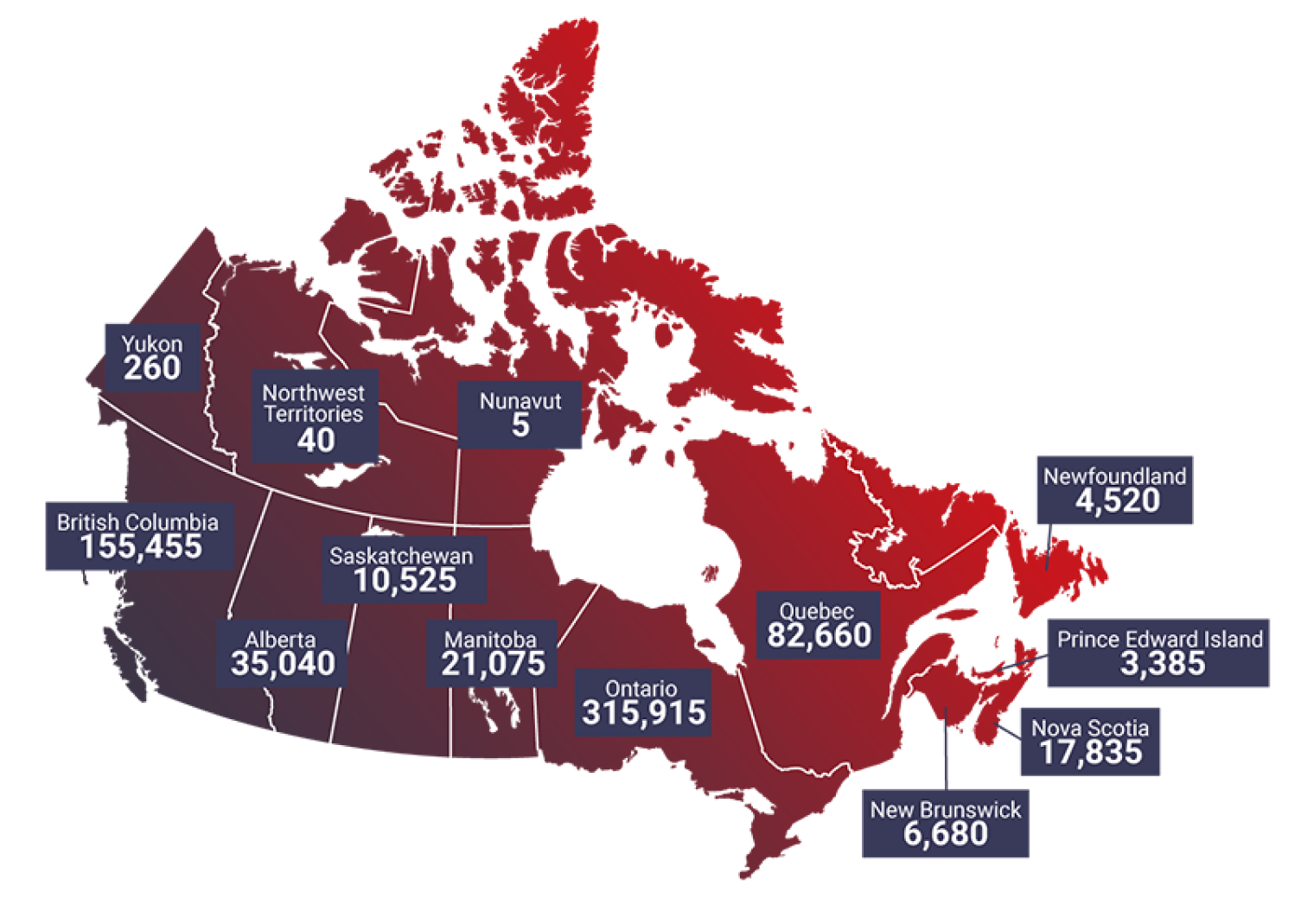 Secondary Research
Canada is constantly in the top 3 most popular destinations for international students


This industry generates over 20 billion dollars per year


The number of international students doubled in the past 5 years


Canada currently receives over 600,000 students per year


International students support 150,000 jobs across the country
Project Objective
After further researching the problem space, I believe that there is a need for a solution to support international students looking for school in Canada that will provide information to students to apply directly to schools, if they wish.
How might we help international students to find recommended schools tailored to their preferences in order to improve the user experience?
Primary Research
To keep a consistent user-centered solution and validate my secondary research findings, I conducted a qualitative interview with five international students. After synthesizing the interview notes, I was able to group my insights into the following themes.
Looking for Information
With a wide range of options and possibilities, international students find it difficult navigating through university websites looking for specific information. It was a common trend that searching for a school online is overwhelming and frustrating.
Agent Experience
A trend of users who tried to apply on their own, hired an agent due to the lack of information online. Half of interviewees who used an agent were not satisfied with the overall experience.
School Matching
All interviewees expressed their priorities and preferences that needed to be taken in consideration when finding a school. It was also very important to be able to find detailed information about the programs and requirements in advance.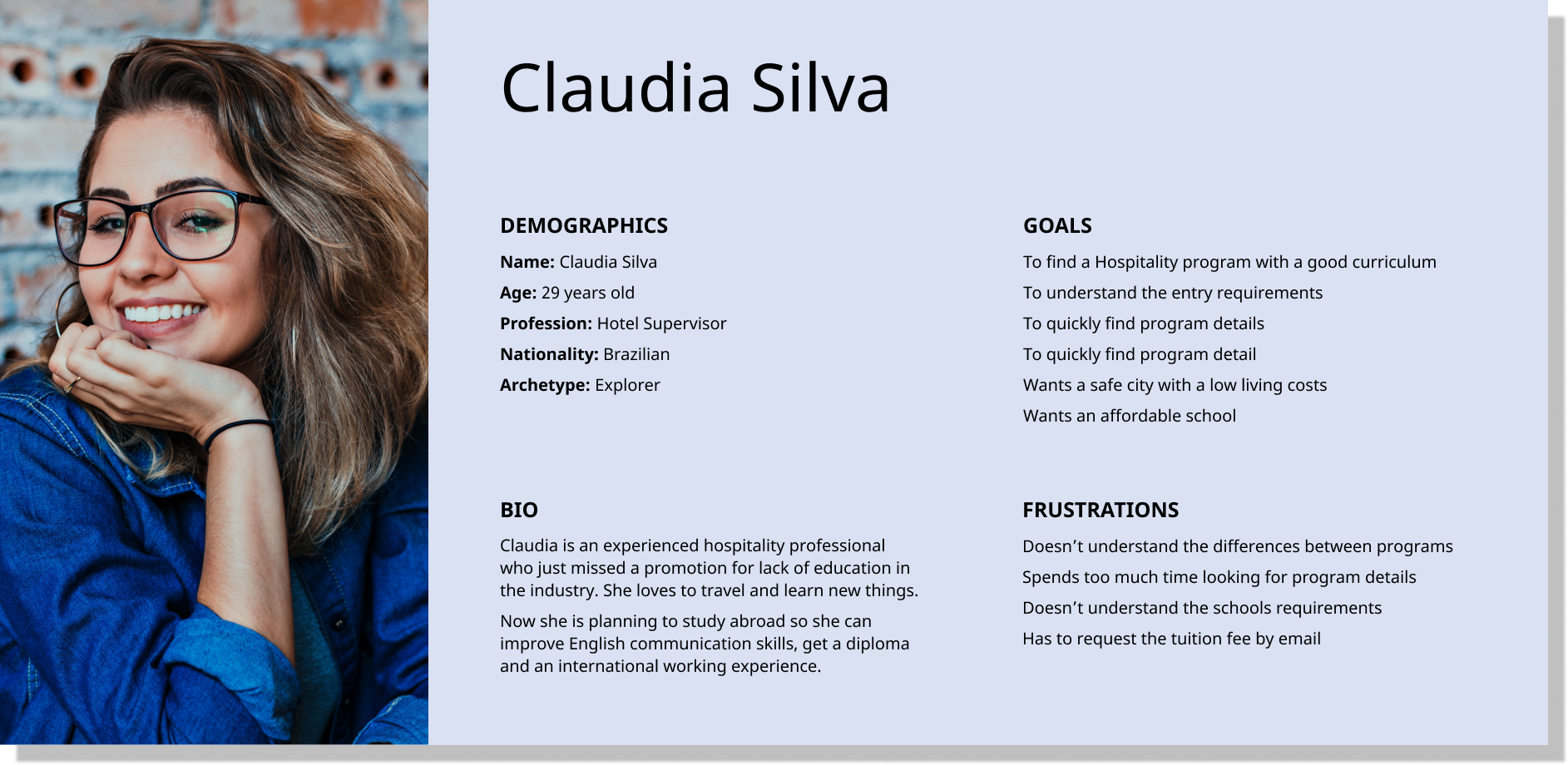 Persona
My next step was creating a persona to fully understand the user' needs, experiences, behaviors and goals. Meet Claudia Silva, I referred to her throughout the entire design process to ensure a human centered solution.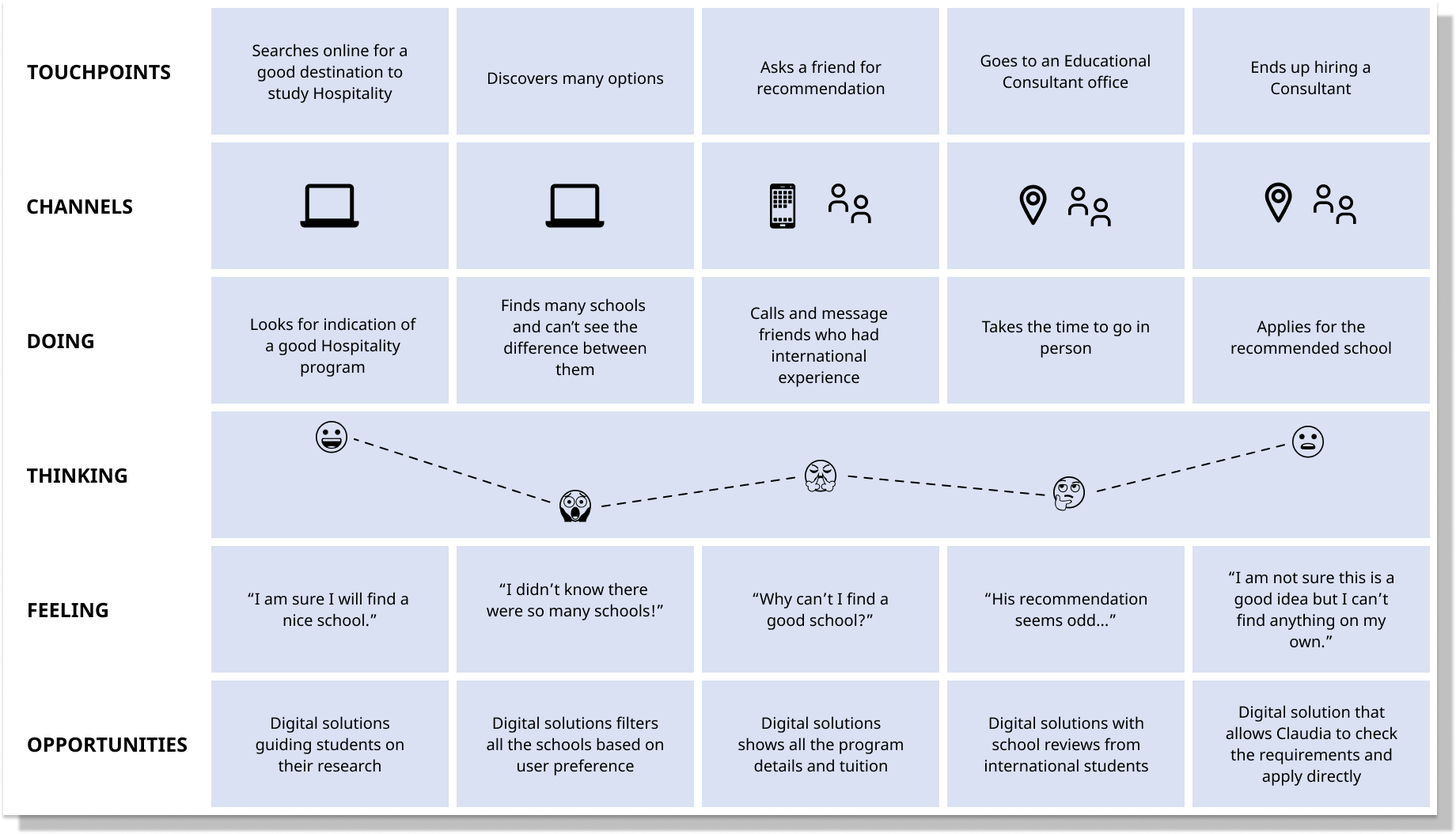 Customer Journey
After identifying Claudia's needs, I created a Journey Map to holistically understand her thoughts and emotions throughout the touchpoints.
Claudia was able to achieve her goals on her journey, although the user experience has some opportunities for intervention to improve the user experience and add more freedom to the end user.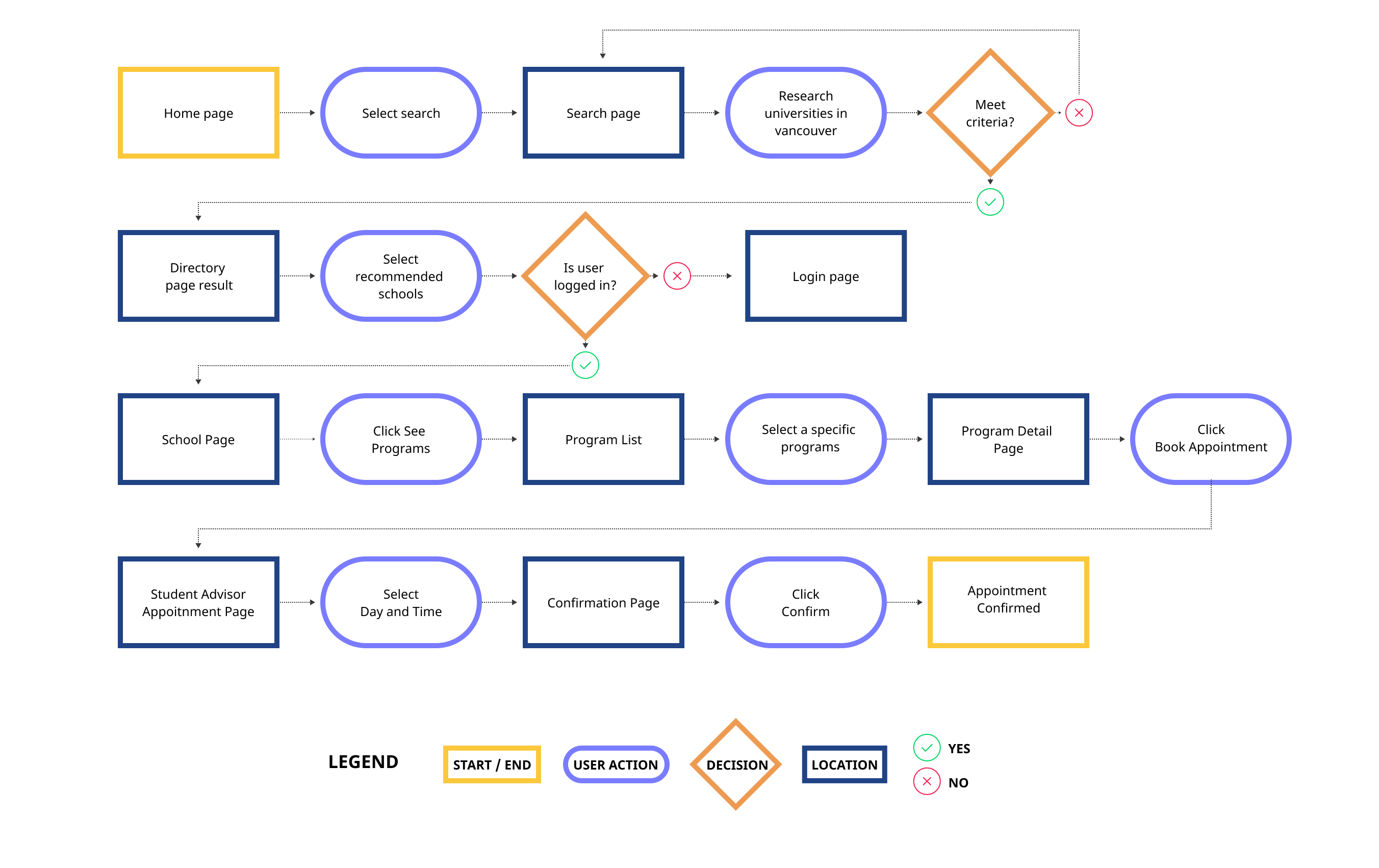 Task Selection Process
Thereafter, I created the user stories exploring Claudia's needs and expectations towards a possible digital solution. I organized the stories into epics to prioritize the task that would be the most beneficial for her.
Creating a Task Flow allowed me to understand the series of steps I would have to create in the ideation process so Claudia would achieve her goal.

Pen and Paper
I started the Ideation process by creating paper sketches and prototyping them into Marvel app, so I could user test and gain insights of the app's functionalities and points of improvements.

Low Fidelity Prototype
The first user test on my paper prototype was very revealing, so I started translating the paper sketch into wireframes and kept working on the identified problems.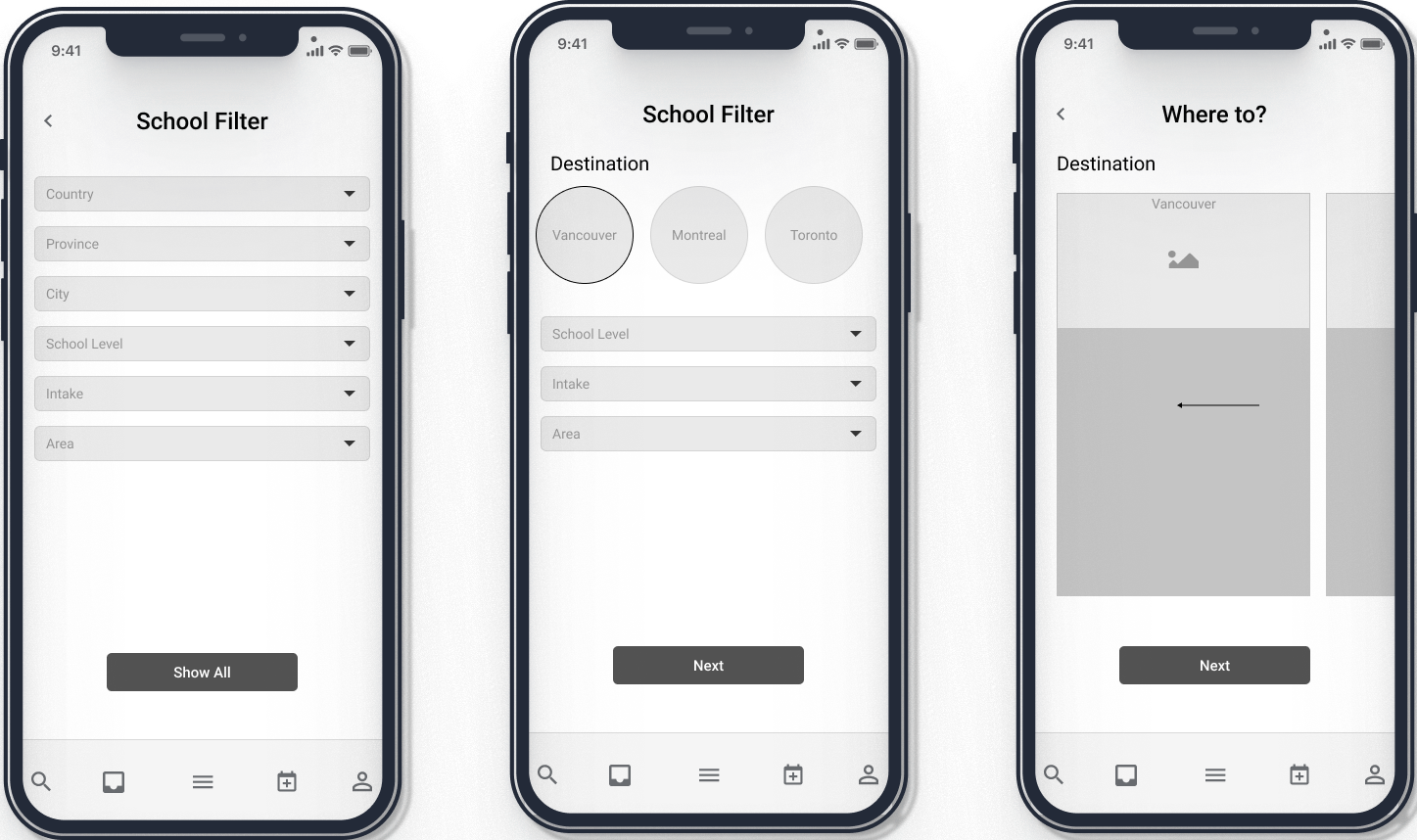 User Testing
User testing in general came as a big surprise to me. It turns out that with a couple of user tests I can uncover biases and misconceptions. I never thought I had a perfect solution, however, I was confident that it was user centered and quickly delivered value to my user target.
My testers pointed me to my blind spot. The onboarding process was long and tedious, so I continued working on it until I found a better way to ask the same questions and the users thought that the onboarding was nice and fun.
High Fidelity Prototype
Once I tested out, the new layout and all usability mistakes were fixed and I started designing the final screens. I was planning to follow a minimalist light design, but my target user expected the app to provide a fun onboarding. I added some colors and some animations to meet my target user expectation.
Every feature designed on this app speaks to the target user needs and challenges. I designed a flow that quickly delivers concise information to equip the user for a decision that is going to be made on his own terms. Some busy users may decide on the spot and some others may take a long time considering the possibilities. Every school information will be saved for when they are ready to commit. The app was natively designed for IOS and Apple watch. It is in my plans to expand to Android in the near future.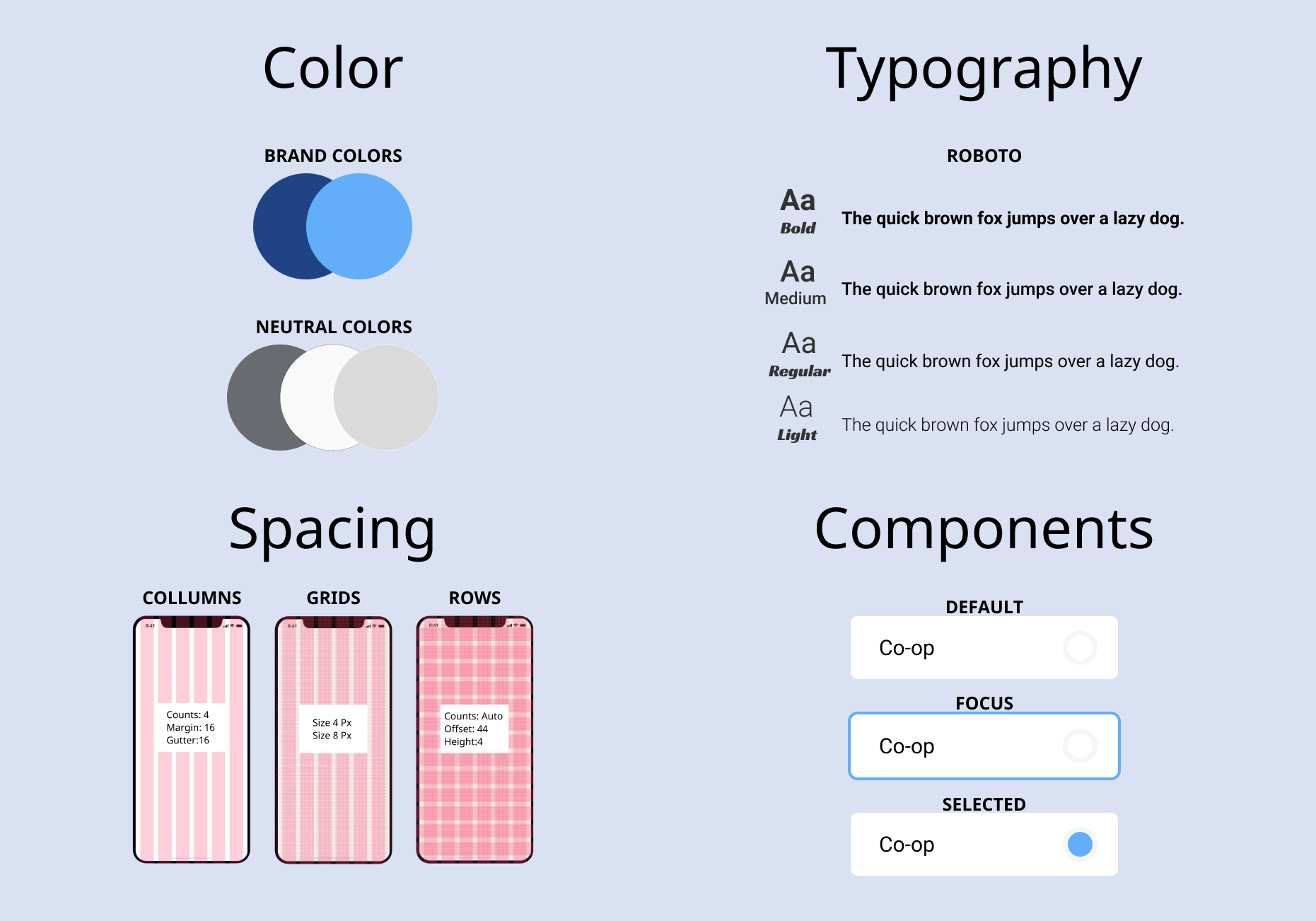 Color and Typography
I decided to choose blue as my primary color as my moodboard had many photos of sky, ocean and sunny days. Blue is also the universal color of interaction and could be inspirational as much as it could be very calming.
I was aiming to have the typography associated with modern and friendly feeling until I realized that some of the users may spend hours reading exploring every aspect of the app. I selected Roboto as typeface because it brings a nice balance between reading comfort and content density.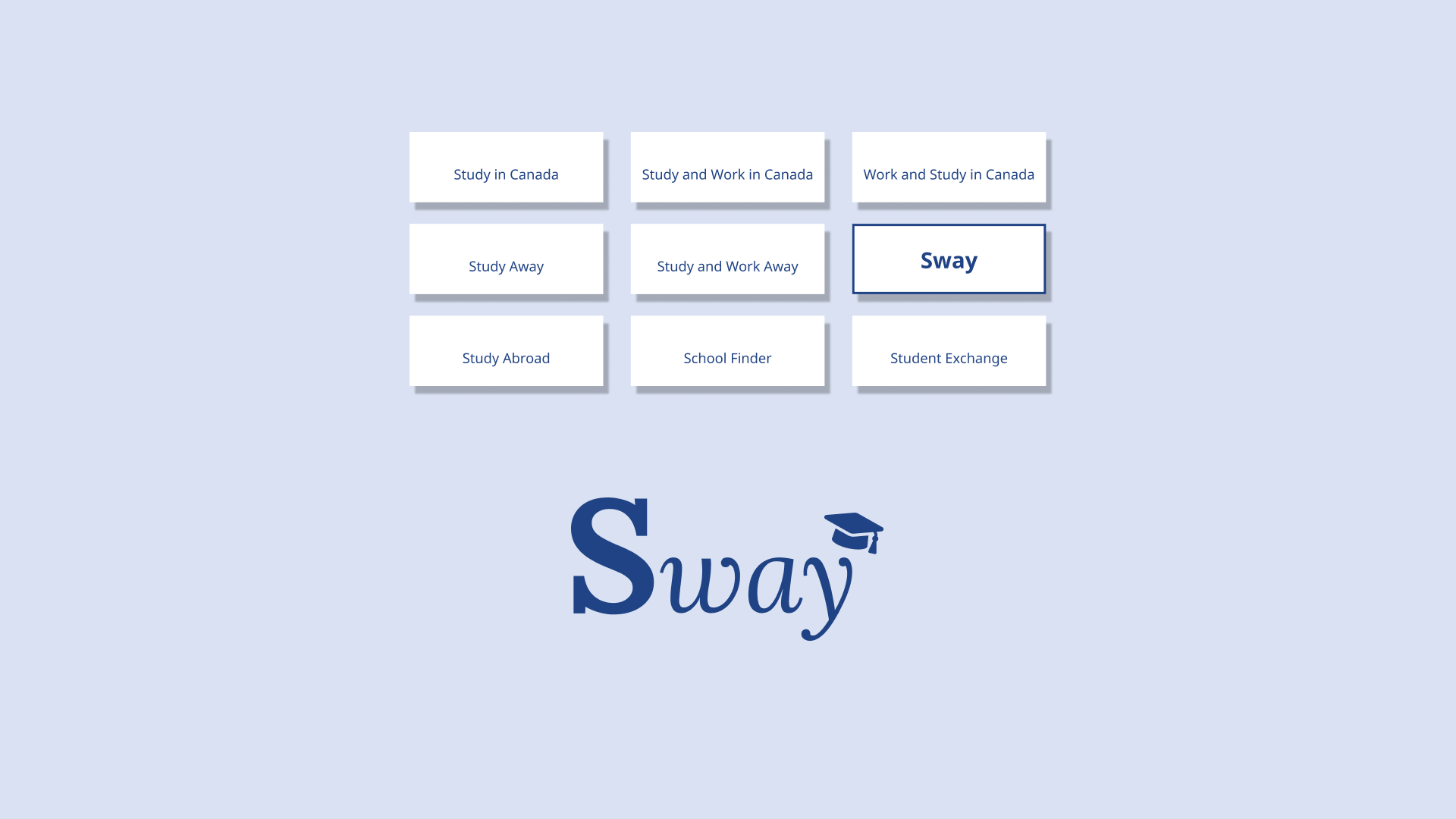 Wordmark
I was looking for a name that had meaning and could be related to the app core value. Sway is abbreviation of Study away. It is simple, short and easy to remember. In addition to it, the word Sway means cause to move rhythmically backward and forward or from side to side.

Responsive Website
To create the marketing website, I used lots of negative space and visual content. So, I kept the text to the very minimum and played texture, gif, and scenery views to evoke the adventurous feelings on my user target. I submitted the final version into a design critique and used the feedback to iterate before publishing it.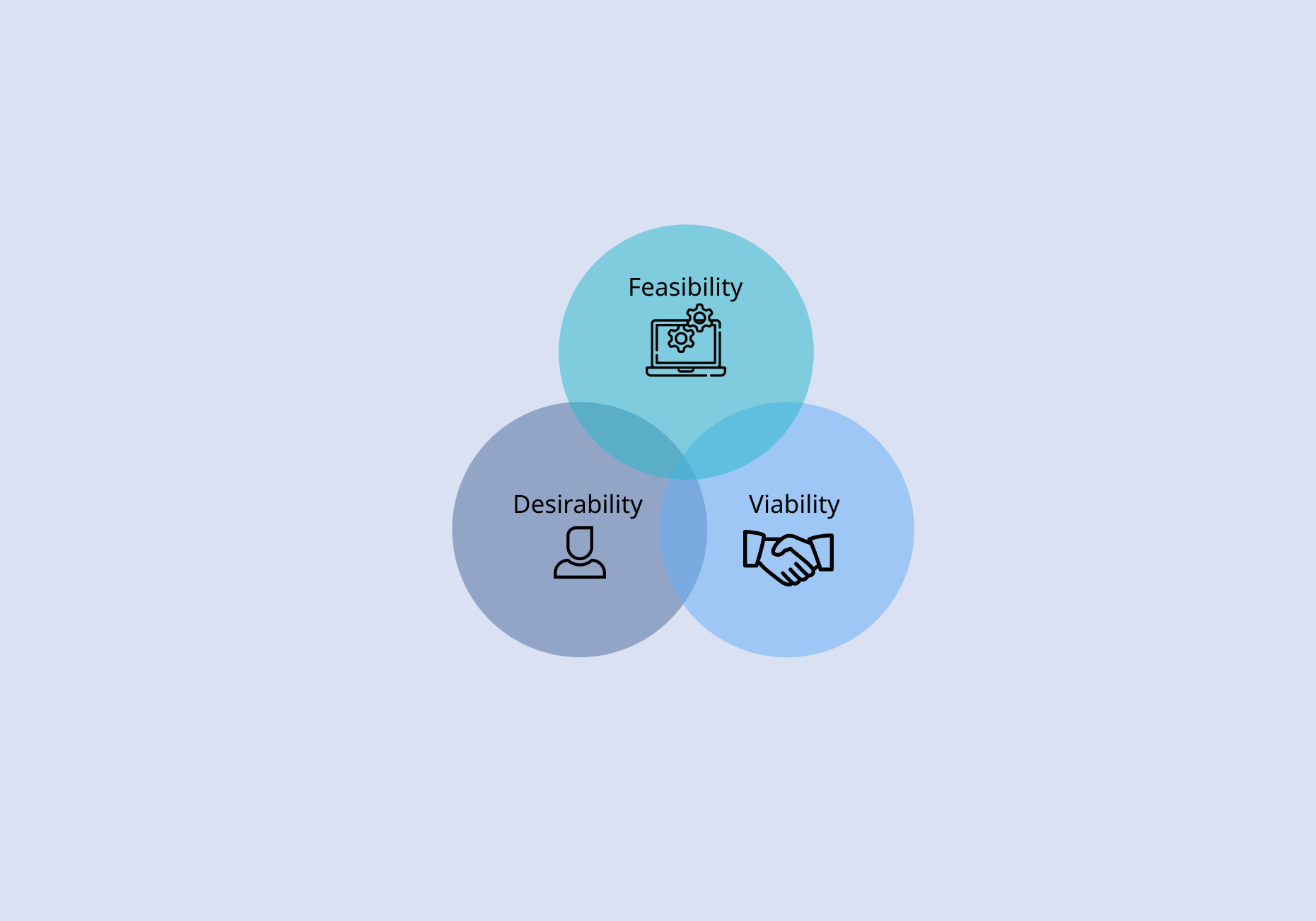 Design Impact on Business
Sway aims to be a bridge between International Students and Canadian schools by providing quick access educational opportunities overseas with minimum effort. Sway has the potential to be a profitable business within 12 months or less.
KPI:
Number of downloads

App rating

Active users

Number of appointments create using the app

Number of possible schools with premium subscription

The amount of revenue generated by referral rate
Onboarding
I would like to design a more interactive way to gather information from our user to deliver a customized recommendation list.
It will require a detailed research to fully comprehend the International Student decision attitude and a pattern with certain psychographics.
Scholarship finder
Scholarships are not easy to find and it is even more challenging for International students. We will design a feature that will help them to find scholarships.
Interactive student reviews
Students will be able to see their peers' reviews and interact with them through our app. There will be a reward system for students who are willing to assist each other.
"For you" feature
Create a list of preferred suppliers (baking, phone and others services) that can support students in their own language.
Compare programs
Compare programs for different universities side to side. A comprehensive summary of users favorite programs to help the student to choose the best program.
Application deadline
This feature will inform students when programs are open for application in addition to remind them when the final deadline is approaching.
Application support
We will be implementing an additional service that will support the user step by step through the application process. An online chat available 24 hours a day.
Translation
The app will be available in multiple languages.

Key Learnings
Research is a must:
On this project I learned to rely on the user needs to guide me through the entire process. Everything else won't matter if we are not solving the right problem.
The user is always right:
Conducting user tests made me realize that we all see the same screen in different ways. User testing is not meant to validate ideas, but an opportunity for improvement.
Simplicity is strength
As a designer, we are often lured by attractive, trendy and out of the box designs, but we must always remember the 'why'. The primary goal is to understand the user, their problems and then come up with a design that solves it.